This is a long one. Go and get your reading glasses ....

There's something intoxicating about being involved with long-distance fell challenges like the Bob Graham Round, Paddy Buckley Round and suchlike. I can't quite put my finger on it, but think it's probably down to the fact that they bring a lot of like-minded people together with a common goal and thus they're very life-affirming experiences. Discounting the fact that for at least one person it's likely to be a painful undertaking, I enjoy these days out hugely and of course, within the limits of my capabilities I want to stand up and be counted myself. I would categorise myself as a fellrunner rather than a fellracer, but every now and again I think you have to quantify these things and test yourself. Others may disagree, but it's as good a way as any at combating the ravages of the years.

I did the Bob Graham Round five years ago and the Frog Graham Round last year, but held off on an attempt on the Joss Naylor Challenge (JNC) for a good reason: In simple terms, I'm just not fast enough (there, I've said it). Joss devised the JNC for over-50s only and you get different amounts of time to complete the thing depending on your age group, thus 50 - 54 it's 12 hours, 55 - 59 it's 15 and so on. It's far from an easy proposition, so don't let the "Over 50s" tag give you the wrong idea - the pace for the 50 - 54 age bracket is fearsome and equates to something like an 18-hour BGR! I knew for absolutely certain that it was beyond me, everybody I know who has done a sub-12 JNC is an outstanding runner and has had to push themselves to complete, but sub-15? Hmmm. I thought I could do that and so soon after my 55th birthday last year, the planning began.

Please don't be under any illusions or let my waffle mislead you, the pace for this is still a bit faster than you'd expect (say) on a 23hr Bob Graham schedule and there is a different dynamic in the way you approach it. For instance, Leg 1 on the JNC is very runnable with less climb than you might expect, so you have to get a shufti on. It also visits the most fell tops compared to the other legs and you can't afford to mess about. Anyhow, the route is from Pooley Bridge in the East and heads generally West, finishing not far from Joss's house in Wasdale. It's 48 miles long, visits 30 seperate fell tops and has 17,000ft of vertical climb or thereabouts. The route is divided up in into four logical sections with road crossings at Kirkstone Pass and Dunmail Raise, plus a support point at Styhead Pass where leg 4 starts.
Route of "The Joss"

I know most of the route pretty intimately, but still had to get out there and recce it, particularly as I needed a good idea of individual split timings. I'd heard from several knowledgeable people that the splits for leg 1 were too fast and the later ones too generous, so I really worked on my own schedule and came up with several revisions to the "accepted" sub-15 timings that allowed for a slightly more relaxed leg 1 while still having enough time to deal with the big climbs at the back end of the route. I set my projected finishing time as a conservative 14hrs 44min, but that was absolutely worst-case and privately I thought that given reasonable conditions I should be able to nail it somewhere between 13 - 14 hours. "Should" is a word that I use too often.

Leading up to my attempt, things did not look very promising. Following the High Peak Marathon in March I'd been struggling with some minor niggles, but they sort of disappeared when I got running and was properly warmed-up, so I ignored them. A bit more worrying was a mysterious tightness in my right knee, resulting in reduced flexion and difficulty in knee lift. Again, this warmed up as I got moving, so I thought it would be OK on the day. I also had some ongoing tightness in my pelvis, but it really didn't trouble me once I got moving - hope always springs eternal with me (really). OK, In retrospect, I wasn't in the best shape for a fell challenge like the JNC, but I'd done a lot of training - a LOT of training - leading up to it and the last thing I wanted was for a few aches and pains to stop me. Things continued to go downhill during the week leading up to my attempt and I was stretching and foam-rolling for all I was worth, my body really did feel like it was seizing up .... my resting pulse rate had mysteriously gone up and I just wasn't feeling too bright. I put it down to the stress of what was looming on the horizon, but I think I was fooling myself a bit, I do that. Compounding all this was a less than positive weather forecast and as you might imagine, I was checking it pretty much on an hourly basis. I've let the weather mess things up before, it was terrible on my first BGR attempt and I should have cancelled instead of trying to be a hero, so have taken the sensible option ever since and just postponed things. Decisions like this are not easy, particularly if you have people travelling to come and support you, the pressure is on and so you have to be absolutely certain if you are going to give it a go. I decided to go ahead with it and damn the consequences.

We travelled up to Kirkstone Pass on the afternoon of Friday 12th May and even at that late stage I was tempted to call it off. I had a terrific support team lined up who I knew would be outstanding on the fells no matter what the weather, they'd understand if I pulled the plug wouldn't they? I decided that on balance, I'd really rather not have this hanging over me and sod it, was going for it. The weather later on Saturday looked a bit clearer so I was hanging on to that, but but I knew it was going to be a rocky ride .... I have to say I seriously questioned my decision (and sanity) at 0300 in the morning when I heard the rain pounding on the roof of our van, but it was too late - I was committed.

Everything was packed and ready and at 0400 my clubmate Simon [C] turned up, he was going to take us to Pooley Bridge for the start where we would meet our friend Jules from Lonsdale Fell Runners, he's done a sub-12 Joss and is exceptionally good at pacing these things. He also navigated leg 2 on my successful BGR and I do like sticking with a winning formula

It had stopped raining and Pooley Bridge was quiet and peaceful in the first glimmers of dawn, I allowed myself to take a deep breath and at 0500 exactly I pressed the button on my watch and we were off! Very quickly we had drama: I don't know what precisely happenened but Simon caught his foot on the kerb as we left the bridge and took a hell of a tumble, of course we didn't break step and he got back on his feet very quickly, but a quick glance told me it wasn't good, he was limping and blood was streaming down his knee. Not a good omen.


Yours truly, Jules and Helen on Pooley Bridge


We pushed on through the campsite at Park Foot and very soon we were on the fell proper. Dawn was already breaking on the fells and I was anxiously scanning the horizon for some idea of the weather situation and it didn't look good - big dark clouds hung ominously in the sky and a sensible man would have said something like "fuck this, bad idea", rounded everyone up and bought them breakfast somewhere. The problem here was that all the people out with me wouldn't bat an eyelid at being on the fells in shite weather, so I'd have been risking eternal damnation in a special part of fellrunner hell reserved for Big Jessies if I'd even tried to pull out. Oh well, best get on with it then! It was a comfortable climb up to the first summit (Arthur's Pike) and easily within the schedule I'd set out, but Simon was really struggling with his twisted ankle and decided to go back to Pooley Bridge. Jules and Helen took my food and kit from him while I pushed on to Loadpot Hill. I was a bit gutted, I knew he had a full kitchen pass for the day and had been looking forward to this ... hell, maybe he was the only one with any brains because the wind and rain had started to make an appearance and very quickly I moved into my waterproof jacket. It was going to stay on all day, unfortunately.

It was clear that the fantastic dawn and clear weather of my dreams just weren't going to happen today and so I focussed on the here and now. Visibility was dreadful, but I had every faith in Jules leading me round and we ticked off the summits in what felt like very short order .... Loadpot Hill, Wether Hill, Red Crag, Raven Howe and High Raise came and went easily, all within or dead on schedule, I was taking on fuel and water without problem and generally doing about as well as I could have hoped for, although my running did feel a bit laboured. The fecking weather wasn't getting any better though and a quick glance at Jules and Helen told me that they must have been suffering, water was streaming off their jackets and the wind was coming from completely the wrong direction, buffeting them and making running just that bit harder. We were mercifully shielded for a few minutes as we dropped below the ridgeline for the run out to Kidsty Pike, but we soon back into it for the short hop to Rampsgill Head and then back South to High Street. We'd recce'd this leg to death in all kinds of foul weather, including a recent "live" attempt in deep snow by our friend Paul and it's amazing how much comfort familiarity brings with it. All the same, I was already sick of getting clobbered by the wind and rain and knew that we'd start losing a bit of altitude from here, so that might bring a bit of relief. Sure enough, as we ran down to Thornthwaite Beacon there was a bit of respite, but you had to have your wits about you as the mist (clag) was pretty heavy and in places I was struggling to see my feet. Massive shame, I've been here before on some truly gorgeous mornings and the panorama is one to die for.


End of JNC Leg 1

From Thornthwaite Beacon Jules led us to the NW so as to stay on the right-hand side of the wall line, it seems a bit counter-intuitive but it's the smart way to go and avoids the horrible, rocky descent to to Threshthwaite Mouth. Helen and I have come down here in a total whiteout before now with a thick, icy crust on top of the snow, it was as dangerous as hell and we (foolishly) didn't have microspikes with us. That's something I won't do again

No snow or ice today though and we were down in a jiffy, only to start the scramble up the crag and on to Stoney Cove Pike. Still no time lost and three or four minutes up on schedule.

I'm not sure what happened next, because on the easy descent down to Pike How (why did Joss include this?) we lost about 1.5 minutes per my schedule. Certainly it wasn't a nav error, Jules got it 100% spot on so I can only assume I made a mistake in my calculations, then again it could simply have been that I was so relieved to have reached Stoney Pike Cove that I just took it a bit too easy (more like it). From there we easily made St Raven's Edge and found a good line down to Kirkstone, this is an easy corner to cut and saves several minutes on the established path.


Rain and Mist at Kirkstone


It was rain and mist at Kirkstone. Simon [F], Elly and Clare were all ready to go though, fully togged up against the crap weather. Dave had a cuppa on for me and a dry Helly, so I gulped it down, changed and we were out after a pretty nippy turnaround, leaving at 0827 precisely - I was five minutes up, about as good as I could have hoped for really. Leg 2 is the shortest on the JNC, but it makes up for it in severity as it feels like you're going uphill all the time. We plodded on up Red Screes and it was about now that I started to regret not putting my waterproof bottoms on while at Kirkstone, the wind and rain appeared to be getting worse. I foolishly waited until the summit to do this and it was a right drama ... I suppose there's something funny and faintly ironic about a couple of young lasses trying to put a pair of trousers onto a middle-aged bloke on a wind-ravaged Lakeland fell, but I can't think of anything clever or pithy right now. It was a masterstroke having Elly on this leg, because she knows the fast lines from her experience with the Hodgson Bros relays that are held in this neck of the words, so once at Scandale Pass she used that knowledge to trim the corner under Little Hart Crag, saving me a vital couple of minutes.

We were getting absolutely battered by the weather. I followed Simon and Clare as we made our way up to Hart Crag, the rain was streaming off their jackets and when I saw Clare wring her gloves out I began to think that I had perhaps made an unwise choice in trying to do this. It feels like a long slog up to Hart Crag (it's one of the longest splits on the JNC) and I was relieved to get there ahead of schedule, but it was costing me .... I was really focussing on making meaningful progress, living only for that summit and then moving on to the next, but the conditions were taking more energy out of me than I had to spare, moreover I really did feel a bit under the weather, the only joy I was taking out of this was the solidarity shown by my companions. Fairfield came sooner than expected, we were surprised to see other shadowy figures moving around in the mist. It's always reassuring to know that you're not the only lunatic in the asylum isn't it? I think we switched to BGR autopilot here, getting off the summit plateau quickly and dropping down to the col and swiftly up Seat Sandal. The weather didn't seem as bad up here and it cheered me up to be met by our mate Geoff, he did his JNC a couple of years ago and came up with the marvellous "Shepherd's Hand" short film, it was nice of him to come out to see me and I chatted with him as we followed the familiar line down to Dunmail Raise.

I could see the full "BG Circus" in action at Dunmail (support cars lining the roadside) and hoped that Helen hadn't tried too hard from a support point of view as I wanted a fast in and out. That's exactly what I got, I gulped down a recovery drink, changed tops again was out in five minutes with my new supporters Dave, Carol and Phil. It can't have been pleasant for my leg 2 supporters and it didn't look like leg 3 was going to be a basket of roses either, I felt a bit guilty that that I was putting people through this. The cloud was low over Steel Fell, hanging like the wrath of Mordor above our heads. I was trying to put a positive slant on it and cheer myself up a bit, I was with my friends and about to spend a few hours with them in the place I love most, that's got to be worth something hasn't it? We reached Steel Fell summit under schedule (it's never as bad as it looks) and Dave was soon showing his expertise over the ground, taking all the fast lines and generally optimising the route.


Climbing Steel Fell, the Wrath of Mordor above us ....


I'd been dreading the bit out to High Raise as I know the climb up the side of Birks Gill can be a bit of a tussocky nightmare .... sure enough, it was fecking terrible. The wind and rain was straight in our faces, Dave forged on ahead but Carol and Phil were doing their best to shield me from the worst of the weather and I felt unworthy. Neither of them are the most efficient wind blocks if I'm honest - I could have done with a couple of All-Blacks prop forwards - but it made a difference and I was massively grateful. Eventually, High Raise appeared out of the mist and we plugged on for the long drag out to Rossett Pike, in my head I was telling myself that the worst bit was nearly done.

There was a definite deja vu about this, from Rossett Pike you pick up the BGR route and seeing as by now I was a bit knackered, it was forcible reminder of just how difficult the BGR really is. Time tends to obscure memories of pain and distress, but this brought it all flooding back in glorious technicolour. The BGR is HARD, I sometimes think that you only get to hear about the fast rounds by talented runners, the blood 'n guts rounds where a contender has to strain every fibre of their being in order to succeed, well, they fly under the radar a bit. Carol led the way up Bowfell Rakes and on to the summit, the rock was slippy underfoot and it felt dangerous trying to move fast, so I was pleased that we didn't lose any time to Esk Pike, this is a very rocky section and in bad conditions it can cost you.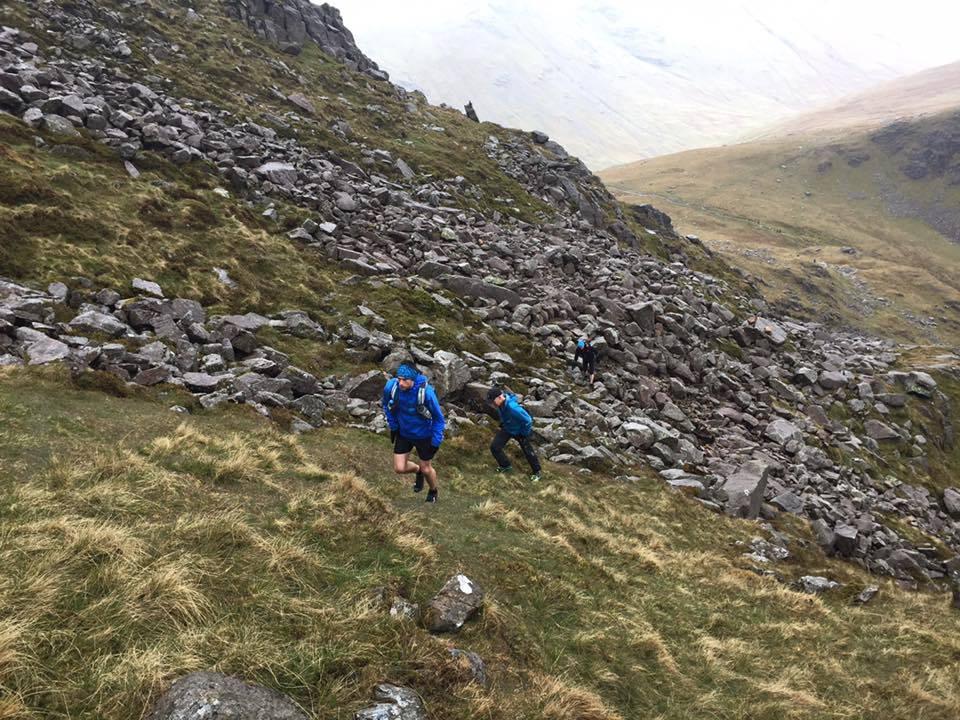 Climbing Bowfell Rakes

I followed Carol down the gully off Esk Pike and one of those magical moments followed when - just for a moment - the cloud parted and Great End was revealed in all its glory, it looked magnificent and raised my spirits. As we made our way down to the Scafell Pike "highway", I was aware that the weather was definitely moderating a bit, the clouds were starting to thin out and the rain had stopped, things were looking up. Dave led us unerringly to the summit cairn of Great End and it was a relief to get there - the last summit on Leg 3.



Great End summit with Nick Andralojc

There actually is a route choice here, a lot of contenders choose to take what looks like the most direct line via The Band, this is a rocky gully that I imagine a lot of people will have seen when passing below and thought "that looks fecking scary". I think you have to be an exceptional descender to really take advantage of it and it seems Joss is also of this mind. Seeing as the rock was very greasy, there was no way I was doing it and on Dave's advice I returned to the col, rejoined the highway and then took an easy jog down to Styhead with Phil, nice and steady, no pressure on me whatsoever. It was the long way round, but I still got there within schedule.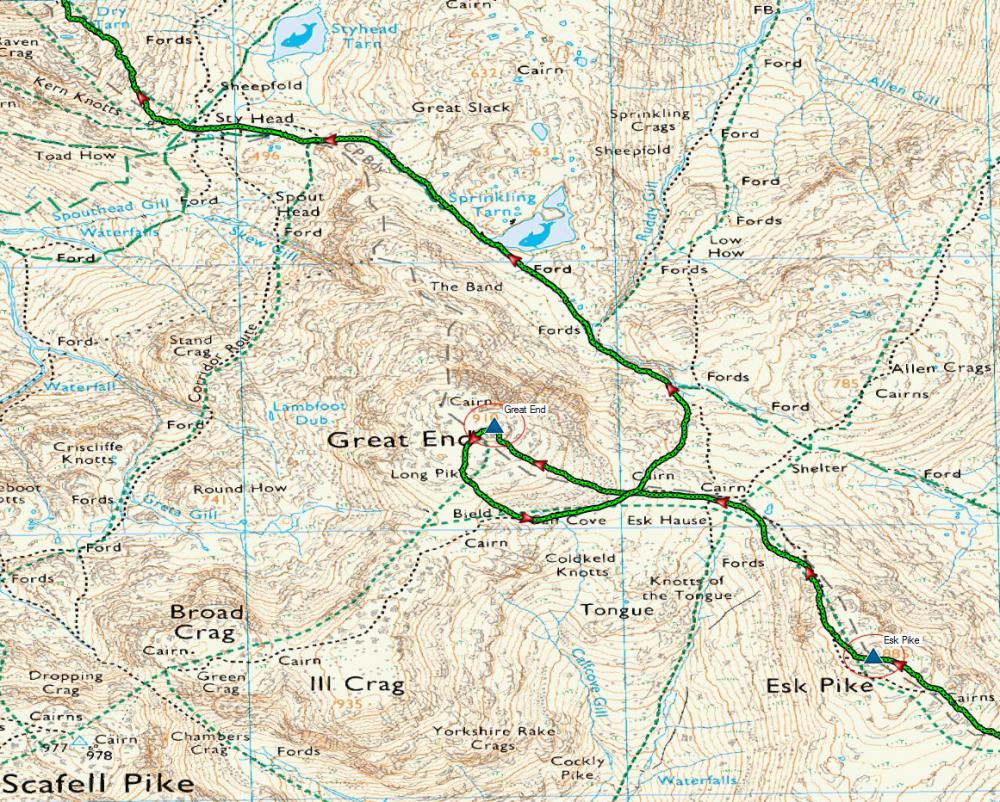 Bad Weather line off Great End!

I was greeted at Styhead by a wave of cheerfulness and optimism, despite everyone being a bit cold and windswept. Top mountain guy Phil [S], his daughter Daisy and new puppy Scout had made the journey up to Styhead, while Simon had trekked up from Seathwaite with Helen in order to meet Carol. A logistical triumph!

Dave was continuing on this final leg in his capacity of Top Navigator, while mates Paul, Nick and David [F] joined me. As always, I felt humbled that they had made such a massive effort to help me realise my selfish ambitions.

Away we went up Great Gable via the Tourist Path, this is a bit of a slog and longer than the climb on a clockwise BG via Beck Head. I just got on with, tried to eat (this was getting difficult) and reached the summit more or less in the time expected. From here though, things got a bit more interesting .... you could go down to Beck Head via the route I just mentioned, but it would be slow. The way to do this is head in a slightly more Westerly direction, scramble through a few craggy outcrops and then down the scree at the side of the mountain. I've often looked up at that and wondered , now I know! Dave found the line exactly and we were down the scree and at Beck Head very quickly, but I genuinely wouldn't recommend this route to anyone who just fancies a nice day out walking around Great Gable, leave this one to the fellrunners. We made quite a bit of time up here on the climb up to Kirk Fell, but it felt slow coming back down Red Gully to Black Sail Pass, wierd how perspective changes. The rain had completely dried up by now, but the fecking wind was still gusting and in the wrong direction .... at least we could see where we were going.

On CW BGRs I know that the ground between Pillar and Black Sail can be a bit of a Make or Break thing for contenders, but going ACW (i.e. upwards) I found it easier than expected, certainly you don't have to mess around quite as much finding the fast lines. What IS more difficult is getting a good line off Pillar down to Wind Gap, thankfully Dave found a much better line than I had in training and before long we were down and heading up to Scoat Fell and the Ennerdale Wall. This came quickly (the true summit cairn is actually on the wall) and Dave took the opportunity for a little rest while the rest of us bobbed out to Steeple. I really was dead tired by now and didn't feel quite right, but still trying to eat and drink, Paul doing his best to jam it into me. It's just a six-minute split here and I do love this little mountain, I fancifully think I've got some special lines that save a few seconds here and there, but do mean you have to be a bit more exposed than you might otherwise be. I'd nailed it now, surely? Just three more summits to go and Paul was singing his awful version of "Three Green Bottles", bless him.


Steeple. Spot the Fellrunner!


Dave was sheltering in the lee of the Ennerdale Wall and levered himself back on this feet for the run down (and back up) to Haycock, discovering that he'd been sitting on the bag of crisps that he'd been looking forward to over the next three tops. Funny how little disasters like this can blunt morale isn't it (sorry Dave). We were dead on schedule again but something like 25 minutes up overall and under the circumstances, I thought this was pretty much as good as I could have hoped for

In training we found a lovely grassy line off Haycock, but Dave had a shorter and more effective route in mind that I'm told was one of Joss's tips. I have to concede that it was a brilliant bit of navigation, but it WAS rockier ..... hell, I shouldn't complain: Seatallan looks a long way away from here and every foot closer was precious. This is a bugger of a mountain to climb so late in the day, apparently it was one of Joss's favourites for hill reps! Christ. It felt like the summit was never going to come and I was fading fast, but we made it on schedule OK, in fact I arrived to find Dave cheerfully sitting on the trig post as if getting there hadn'd been difficult at all. I think I hated him at this moment.



Middle Fell and Seatallan


Dave had the line nailed off Seatallan down to the col between it and Middle Fell, I opted for the grassy line to the side of one of the scree chutes as my legs were totalled and I was getting wierd shooting pains through my pelvis. Once at the col, it was just a short climb to the summit and that was it, job done - an easy run down from there to Greendale Bridge! Except it wasn't that easy, I was seriously flagging and doing everything I could on staying focussed on the job in hand. The guys were full of encouragement, pushing me along, Paul doing his best to give me little bits of food but I just wasn't having any of it, my stomach felt terrible and revolted against the thought of putting anything into it. As we approached the summit I heard a familiar voice and there was Helen, she had trekked up to the summit with trusty fell hound Fewston Border, the little feller was overjoyed to see "Dad" (Paul) and I have to say the same about my finding Helen, not that I got much sympathy from her.


Fewston Border surveys his fiefdom from Middle Fell


I reached the summit with an overwhelming sense of relief. My emotions are always a bit out of kilter in situations like this, so I kept my mouth shut in case I said something even more stupid than as is usual. Believe me when I tell you that I was empty at this point, totally spent. I know what it feels like to run up to (and past) the Wall, but this was more than that and I felt a bit worried - this was not normal. I was struggling just to point myself in the right direction as we began our descent off Middle Fell.


Summit of Middle Fell. Job done!!


In training I did this in about 15 minutes without any real effort and hoped to duplicate it when it mattered. Not a chance, not a fecking chance, I was just doing my best to stay upright and keep the end goal in sight but Jesus it was hard, every fibre of my being was crying out to stop. I remember climbing La Tete aux Vents on the UTMB a few years ago, I'd been running for about 38 hours and was in desperate pain, but didn't feel as empty and weak as this. The bridge was clearly in view and I knew it was nearly over, the ground levelled out and I was nearly in tears as I half ran/walked to the road and touched the bridge, completing the Joss Naylor Challenge in 14 hours and 22 minutes.


Nick and Paul debate whether I really gave it my best shot


Joss came over to greet us and after a few shaky leg moments I got the handshake that meant so much to me, what a man he is. It was the first time I'd met him, though of course I've seen him out and about on the fells and in Wasdale for years .... In real life he comes across as a witty, intelligent man with a genuine love for the sport he excelled at and the fells that surround him ... I was overwhelmed that he'd come out to greet and congratulate me and, if anything, am even more impressed by the Legend. They say that you should never meet your heroes don't they? Wrong in this case.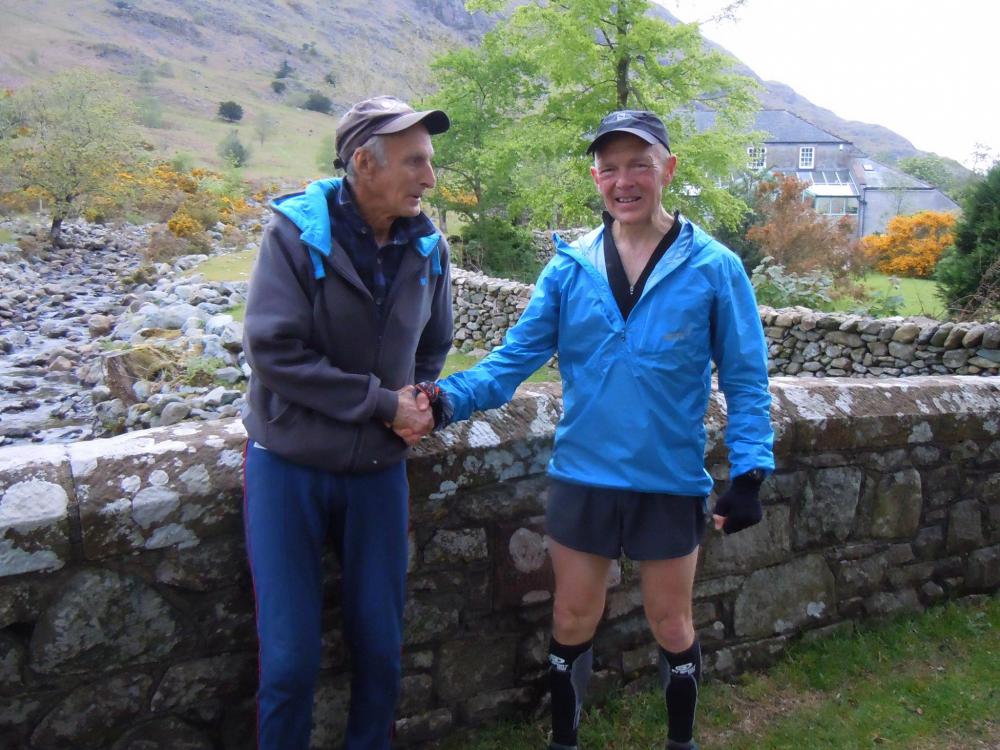 A Shepherd's Hand


He signed my copy of his biography and we broke out some celebratory beer, then spent about an hour chatting on the bridge, how bloody wonderful can things get? I felt elated, but also in dire need of some fuel and Paul was quick to get some Mountain Fuel into me along with an energy bar. I could have done with it a couple of hours back on the fell, but there was just no way. My body was beginning to seize up though, so once the beer had disappeared it was time to say goodbye and be on our way. What a day, it had been a massive gamble but one that had paid off and I was hugely relieved.

Shooting the Breeze with Joss
I'd like to say that's the end of the story and in a way it is. I raised over £1,000 for the Yorkshire Air Ambulance along the way, a charity that has historically been supported by my club, Harrogate Harriers. They were also responsible for rescuing a friend of mine (Tom Phillips) following a potentially life-threatening accident on Buttertubs last year, they are the real heroes in this story. I would like to thank all those who sponsored me, your generosity has been amazing.

There is a bit more to tell though:

About four or five days after I completed the JNC my body really did start to seize up, to the point where my right knee wouldn't straighten and my pelvis was locked solid and causing great pain. I also had terrible pain in both shoulders and sleeping was barely possible, just turning over in bed was a massive issue. My doctor was very quick in getting me in for an appointment, the immediate diagnosis was that I might be suffering from Lyme disease with consequential reactive arthritis, but in any event was given a heavy dose of antibiotics and packed off for blood tests.

The week that followed was truly dreadful, I was shuffling around like an old man and practically living off a cocktail of ibuprofen and paracetamol. The surgery rang me on the Friday morning - exactly a week after the blood tests - and got me in that morning. Apparently my blood test for Lymes was indeterminate (whatever the hell that means), but I had a very high level of C reactive protein (CRP) in my blood, this is typical whenever the body has an autoimmune response to an infection. I don't think my doctor had any real idea what the problem was at that point, but immediatley prescribed a strong steroid (not anabolic, these are called corticosteroids) along with codeine for the pain. I staggered home that night and crashed out on the settee, barely able to walk. The difference next morning was truly amazing and by midday I was outside jetwashing the patio, so what the hell was going on?

I had a follow-up appointment on the Tuesday with my doctor and was lucky enough to see a rheumatologist at Harrogate Hospital the following week. He supports my doctor's diagnosis that I am suffering from a kind of reactive arthritis. It's not good news and means that I could be trying to recover from it for an extended period of time, however I am going to do my best to manage it. It could have been triggered by a bacterial infection like Lymes - and that may be the case - but it could also have been something that's been with me for a while and the Joss was just the straw that broke the camel's back. I've been feeling pretty crap, I know that much.

In retrospect, I am overwhelmingly glad that I carried on and did the Joss when I did, if I'd left it another week it may never have happened, certainly I haven't been able to run since and I only just managed to get out on my bike last night, that's pretty much four weeks after the event. In doing the Joss I became something like the 205th person to successfully do The Crossing (as it's known), but I might be the first person to do it while in the early stages of a relatively serious illness .... perhaps that's a notoriety I don't want, but whatever - it's done now.

I had a fantastic time and just for the record, thank you to all those who came out on a filthy day to support me, I am truly grateful.